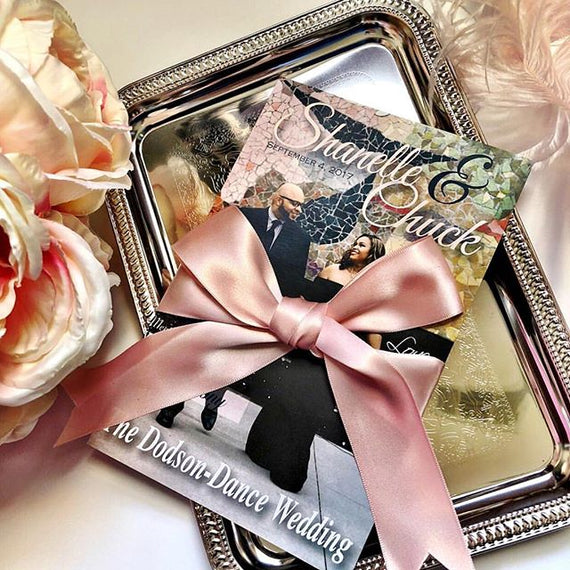 What is the best way to use these magazines?
We take your engagement photos and turn them into custom magazines displaying all of your detailed information for your special day. These full-color magazines serve as a beautiful keepsake that your guests will not throw away! These magazine  can be used in many different ways! 
Save The Dates
You can use these magazines as save the dates to send out to your guests to give them all of the information on your big day.They are excellent for destination weddings!​​
Wedding Invitations
You can use these magazines as your wedding invitation to display all of your engagement photos and to send to your guests as a classy introduction on what to expect on your big day!  
Wedding Programs
You can also use your magazines as a wedding program which is the most popular! You can showcase your wedding party and include all of the important information about the bride and groom! These programs serve as a keepsake that your guests will never throw away and also serve as a nice gift that your friends and family will always cherish! ​
Thank You Magazines
You can use these magazines as a special way to say thank you! Include all of your spectacular wedding photos and special information! ​
Still have questions? Read our FAQ! 
Need more info?
HOW IT WORKS
Step 1
Upload your text and photos using our simple form that we send you upon purchase.
Step 2
We design it for you and send you a digital proof in 1-3 business days.
Step 3
You edit it and make sure that is perfect! Once it is just right, you send your approval.
Step 4
We deliver your printed magazines to your doorstep.
Magazine Options
Choose a magazine that is right for you.